This year hasn't been easy to say the least....
What's been going on?
Ahmaud Arbery, Breonna Taylor & George Floyd become tragedy stories in hate crimes plagued by years of racist encounters by police officers and individuals who falsely profiled POC.
Hashtags that never cease to end have become voices that will be etched in history for the Black Lives Matter movement and the protest heard around the world.
Minneapolis Council Members vow to debunk the police department that's failed them and  replace it with a community-based public safety model.
My Thoughts
So many emotions I feel on a daily through the media coverage and teaching my students who live in the same undeserved communities as myself. I feel ashamed, I feel closed off and weak. Weak because I suppressed emotions for every hashtag mentioned, for every moment of life lost. I am a black man and I feel, I haven't learned how to properly express those feelings but I want to learn, I want to grow. 
So I want to educate self and be more prepared for the future and become more of a resource to the students I foster by using my voice to help elevate change. This isn't about a race war, this is about black and brown people who continuously become targets to police brutality and systematic racism finding their voice and exercising their right to BE EQUAL.
Honestly if you have an issue with that, then you'll probably never understand the lost a mother, father and child feel when they lose a love one to such violence. 
Take this time to reflect on self - educate yourself and make yourself aware that you're not the only person living in this world. We're stronger together but before we get there we'll continue tearing down the walls that keep us divided.
Black Life is Beautiful and it ALWAYS MATTERED.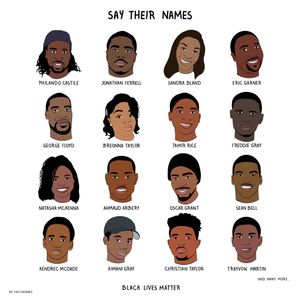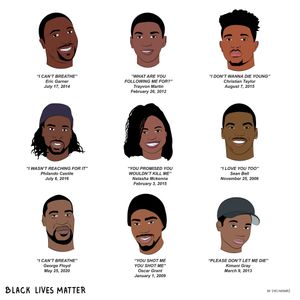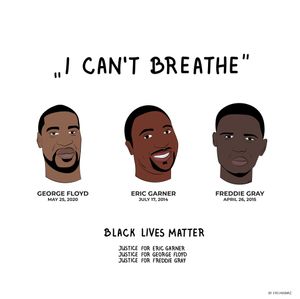 Artwork created by evelina barz
#SayHerName #SayHisName #SayTheirName
Resources
Here's a few links to resources on how you can get involved, staying safe during protesting, support  protesters bail funds and educate yourself.
https://blacklivesmatters.carrd.co/
https://www.amnestyusa.org/protests/
https://www.refinery29.com/en-us/2020/06/9851225/black-lives-matter-how-to-help-donate-support